Messages

189
Reaction score

91
Points

47
Location
Boat Make

Scarab
Year

2019
Boat Model

215 ID
Boat Length

21
I'm adding a second battery to our 215 ID for the stereo, and wonder how many went with a single bank charger for just the stereo battery? I could be wrong but I don't see the start battery needing to be charged very often if at all. The only time the boat will spend the night in the water is when we are camping and anchor the boat just off the shore. Otherwise it will always be pulled out at the end of any day trips.
I was considering a NOCO battery charger, unless there is better charger that has a similar price without breaking the bank?
Should we install an extension cord hook up to make it easier to plug the charger in? If so, where would you suggest on our 215? Near the rear corner, in the rear side seat base or the center base? Or possibly the transom? Would prefer it a little more hidden, but not having to remove the rear side seat or raise the motor cover would be nice. Maybe run the power cord into the port console and just open the walkway storage door to plug an extension cord in?
And should I upgrade the stock battery on/off switch to a dual battery switch (4 way), or just wire in an ACR? I like the idea of the ACR since I don't have to remember to change the switch when anchoring and hanging out, or when taking off and cruising so the stereo battery charges.
TY!!!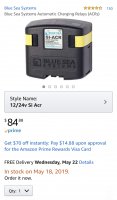 Or