Messages

1,529
Points

218
Location
Boat Make

Yamaha
Year

2015
Boat Model

AR
Boat Length

24
Much has been posted about problems with the 2015-16 Shoreland'r trailers. In particular, some fenders and fender mounting brackets are cracking. Vibration is probably the root cause, and many on the forum have decided to switch from the bias ply tires to radials in order to get a smoother ride.
I don't know anything about tires, so I called Shoreland'r to tell them that, although I was happy that they were going to replace my cracked fender and mounting bracket, I was still concerned that it would just happen again unless the root cause was corrected. I told them that the only sources of vibration were the road surface and the wheels/tires. I told them that the side with the cracked fender seemed to vibrate much more than the side that was not cracked. I asked them if the wheels were balanced. They told me to call Carlisle directly to discuss this because they didn't deal with tire/wheel questions.
I called
Carlstar at 1-800-260-7959
I was really just looking to learn more about the tires that were on my trailer. I learned that they are not balanced. I asked if I should replace the bias ply with radials. I asked if there was any significance to the tire spec'd on the trailer plate: ST215/75R/D14C. I learned that the "R" means radial, yet the trailer was fitted with bias ply. I also learned that Carlisle has recently changed from bias ply to radials for the Shoreland'r trailers.
Ask me how happy I was when this skid holding 5 brand new mounted radials arrived from Carlisle today?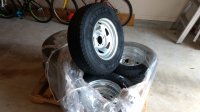 For FREEEEEEEEEEEE!
Yup, they sent me a free set of radials.
Last edited: