Messages

680
Points

88
Location
Boat Make

Yamaha
Year

2016
Boat Model

242X E-Series
Boat Length

24
So we went out to a spot where we eat dinner often, about a 5 minute drive. Threw the anchor and hung out for 2 or so hours, when I went to start the boat I got a check engine error
"Drive control check engine"
The motors would not start. After turning the key off an on a few times, I decided to try to place the battery switch on start only, turn off house. that didn't work. I then placed the battery switch on start AND turned on parallel (left house off) and I was able to get the engines started BUT I could not throttle at all, the boat was stuck in idle speed (about 3 miles per hour).
I pulled anchor while the boat idled, then limped back to my slip. While moving we turned on the house battery and that lit up the connext screen BUT still I couldn't do anything with the throttle, no reverse no increase speed, just idle.
To dock, I had to turn off the engines prior to my slip and glide close enough to jump out and walk the boat in, which was a bit of a pain.
So, now I'm in my slip with forward idle power only, it's going to be fun to drive to the trailer to get it to the dealer.
here is a pic of the error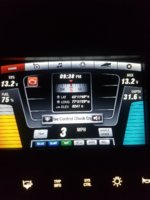 Any ideas on what could cause this?
Background on my battery situation:
I cannot run connext or the stereo on just house, I have to have house and start on, so something is wrong there, probably with the switch. That is what got me thinking of trying different battery scenarios to start the motor with the above error. I don't know if it's related but it could be.