Messages

331
Reaction score

266
Points

152
Location
Boat Make

SeaDoo
Year

2008
Boat Model

Challenger
Boat Length

18
New-to-me boat, old Hyrdo-Turf garbage. Preparing for SeaDek install.
No trick to getting the mats up (aside from tedious brute force), but figured out something for glue removal. I tried a bunch of the standard recommended chemicals (plus heat) and didn't find any that worked to my satisfaction. For most of them, best results came after letting them soak in then also using a razor blade to thin the glue down enough that I could actually wipe it up clean with more of the chemical ...and it still took several go-overs. The razor was also removing the grit of the traction areas.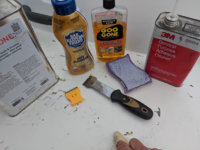 I tried rubbing the glue with my latex-gloved finger and found it rolled the glue right up so I could just brush it off. This was killing my fingers, so I considered ordering one of those "eraser wheels" for decal removal. Then I thought, "why not a
pink eraser
then?" Compared to chemicals, this is awesome. It actually seems to work best when the glue is thicker, rather than thinner - the glue pulls on itself.
UPDATE: decided to order the "eraser wheel" mentioned below.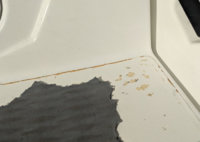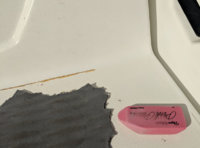 My picture shows the eraser after I had successfully used it on several areas ...I'm going to need to buy more (Paper Mate 12-packs can be found for $5). No risk of damaging the gelcoat or removing the traction grit. Won't work if the surface is damp.
Other notes:
- Adding heat to the mat in an attempt to facilitate removal only caused the glue to let go of the mat and stay on the deck. It wasn't night and day easier, either. So for me, I preferred wearing myself out tearing the mat off rather than leaving so much glue behind to erase.
- I didn't try icing the mats first - didn't seem practical. Plus, pulling up mat that was in the shade didn't seem any easier than stuff in the sun.
- Some recommend spraying the underside edge of the mat at the deck as you lift it off to help the next portion let go. Add in the spraying time and this doesn't seem to make it go any faster ...and made the mat edge slippery if it tore off.
- The Barkeepers Friend didn't work here, but it worked really well to remove silicone I had scraped down thin during the AR230's intake duct reseal. Maybe the traction grit was causing issues? It is still the non-soap cleaner that I use the most on the boat.
- I might still try an eraser wheel if this becomes too tedious (some complain of burning their gelcoat, but I'll chalk that up to user error).
Last edited: