Messages

619
Points

173
Location
Boat Make

Yamaha
Year

2008
Boat Model

SX
Boat Length

23
and I am open to all brands. I have had 2 Silverados, and my current one is a 2002 which runs great with under 80K miles on it, but is starting to rust underneath and I'm just done with replacing the brake lines every 2 years. I need to start thinking about something new. I would like a back seat, but that's about it. I am low maintenance and don't need leather or anything fancy, electronics wise. I just want something capable of hauling my 2008 SX 230, without straining the f out of it. Ford's seem to be the cheapest ones available, but I am not fond of Ford's considering their police cars (of which I had a few) all sucked. But they seem to have a good reputation as far as trucks go, so I am not set against one. In addition, I would like to keep it under 30k. Is 4wd worth the expense if I only use it a few days a year? I don't know but I've always had 4WD. I'd consider used, but when I bought my 2002 Silverado, I spent about a year looking for a well cared for used pick up, and I could not find one. Guess most folks are not as anal as the people on this board, with their stuff. I'm just looking for opinions from those aboard who always have one, lol.
I'm also selling this beautiful 2013 Infiniti G37 sport, with less than 25000 miles on it, and bumper to bumper Infiniti Wrap warranty on it until 2021, if you know of anyone interested. Rest assured this is the nicest 2013 sport in the entire country up for sale at the moment. Garage kept, all records, etc etc etc blah blah blah.....25 k to anyone on this board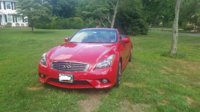 https://www.nadaguides.com/Cars/2013/INFINITI/G37/Convertible-2D-V6/Values
I bought this one knowing I'd sell it within 2 years or so. Thus, video records kept.