Jetboaters Fleet Admiral
Staff member
Administrator
Messages

12,029
Points

613
Location
Boat Make

Yamaha
Year

2016
Boat Model

242X E-Series
Boat Length

24
The following boats will have a new options package from the factory: 242, 242 Limited, 242 Limited S, and the 242X is only an E-Series boat (can't get it without the E-Series package)
The E-Series Features include:
Drive by Wire for smooth acceleration through the RPM range; features RPM engine synch and single throttle lever functionality. This was REALLY impressive.
Next generation of Yamaha's Connext® helm control system featuring Yamaha Drive
Control allows watersports enthusiasts to program GPS-controlled speeds, four
different acceleration curves and stores rider profiles for quick access.
Push Button Start.
Upgraded trim level with premium appointments like aluminum and Kevlar coving inserts and much more heavy duty seat fabric.
Premium tower with built-in solar panels and extra-large bimini top that covers 2/3 of the boat (on 242 Limited S E-Series). Yamaha says that the solar panels will produce 1.5 amp hours combined in the sun.
All of these features are covered in the
242X video
in detail, but here are some photos for you to enjoy:
Push button start, there is still 1 key that they put on the side wall under the throttles. Once it is in, you can start and stop each engine with these buttons: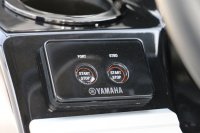 Here is the key on the side wall with the safety lanyard connection too: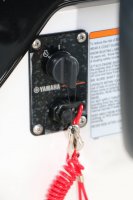 Here is a shot of the new throttles that run the drive by wire system: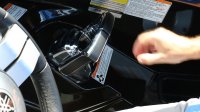 This black box (behind the helm) is what covers the servo motors that move the gates up and down: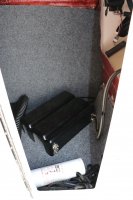 There is one, and only one, drawback I came up with on the drive by wire system. They have limited the reverse RPM to 4000, so if you like doing sub moves, this might not be possible in an E-Series boat!!! Perhaps there will be a software hack we can implement to over ride the 4k limit???
Here is a shot of the 242X ConnectX screen. As you can see, there are 5 presets you can set for different riders, or different activities, like the one in the bottom left called SFP they have set up for SurF Port. You can use the 3 digits for anything you want, initials etc. If you don't have the X model, then the ballast settings wont be visible/available. In the center you see the Target speed (9mph), Acceleration curve (Slow) and ballast status. Also, you can see the red "Single Lever" button that syncs both engines exactly and means you only have to use one lever to control the engines (or two if you like):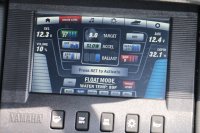 Those of you who complained about ConnectX not showing the correct voltage for the Starter and House Batteries might take note here that two different voltages now show (hopefully that means they have fixed that issue!)
Here is a shot of the interior of the 242X: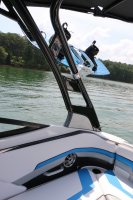 Here is the 242 Limited E-Series interior: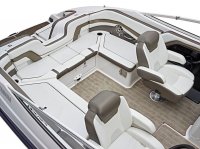 Here is the 242 Limited S E-Series interior: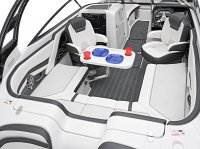 Last edited: