Getting ready to install 2nd battery and add a battery kit.
17 sx210.....Battery on off switch currently has 4 wires.
1 red goes to battery.
1 is in black loom hooked to a 20amp fuse.....does this feed all the accessories or what is it.
2 more red wires....does each go to an engine or what do they feed.
Just trying to understand the wiring.
Thanks!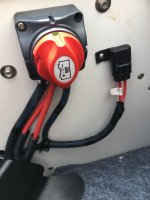 Last edited: