Messages

10,184
Reaction score

11,374
Points

592
Location
Boat Make

Yamaha
Year

2016
Boat Model

AR
Boat Length

24
I was changing the air filters today and finally decided to take a good look at the air intakes - which happen to be under the stern storage, on both sides (sort of):
Interesting, in the new 240/242 the STRBD side vent is only the Blower/Exhaust, PORT is the fresh/cold air intake.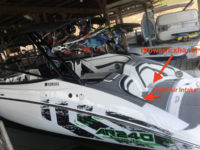 Here is a close-up (outside) of the fresh/cold air intake - PORT side: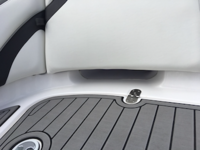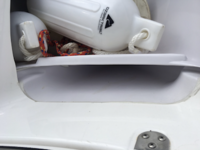 And a close-up of the Blower/Exhaust outlet - STBRD side: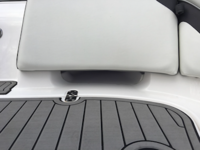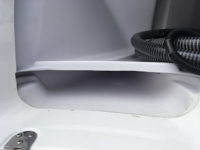 The fresh/cold air vent opens up inside the engine compartment - on top/PORT side:
(I peeled the foam for better view, the silver is RAAMmat insulation in my boat)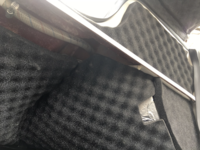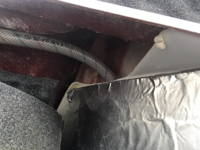 Now the Blower/Exaust vent DOES NOT open inside the engine compartment - it is completely enclosed with a mount for the blowers/hoses - top/STRBD side: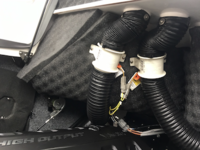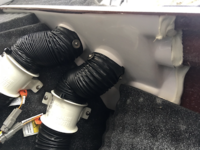 So - basically - the only air intake from the outside is under the PORT side stern storage!
(Both blowers suck the air out of the engine compartment and exhaust under the STRBD stern storage)
When we wake surf, we will typically run with extra ballast on the swim deck/platform (in addition to the built-in 3 x 800lbs in center and rear lockers). For surfing regular side - that extra ballast would sits on the PORT side of the deck. Usually 1 or 2 bags 550lbs each, staggered.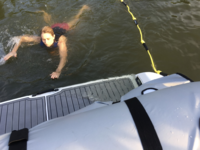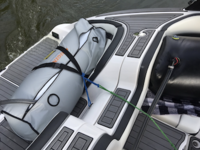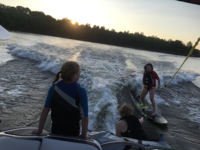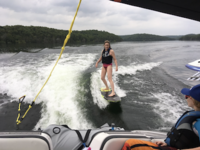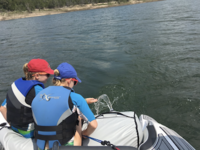 Are the bags obstructing the air intake?! At any rate - they are are not helping!
We have a semi-decent wake, but if I'm starving the engines of air, this can not be good.
I thought I would share. There has been some talk of making form-fitting bags for the swim deck, I think
@0627Devildog
has been working on some. Well, air intakes may need to be a consideration. It just never crossed my mind, until today.
@gmtech16450yz
- any ideas on CAI mods?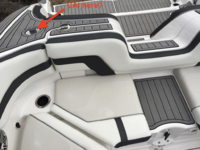 --
Last edited: