Messages

556
Reaction score

738
Points

157
Location
Boat Make

Yamaha
Year

2017
Boat Model

242X E-Series
Boat Length

24
Over the course of our first year of boat ownership a few years back we tried a few different anchor types and discovered that in our local river, TN River, a richter style anchor seems to work the best. In our first boat there was no anchor locker and the anchor was stored in the port side bow storage to help with weight distribution. So when we upgraded to our 242X that is where I stuck the anchor out of habit and since it wouldn't fit through the opening of the anchor locker.
Fast forward to the 2018 boating season, and my wife would like to use the anchor locker for its intended purpose so she doesn't have to get up so that we can deploy the anchor (The port side bow seat is "Her Seat").
So I decided to make a 17lb richter anchor fit in the anchor locker.
First I masked of the area with tape before marking up the tape and cutting.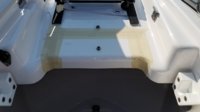 Made the cut.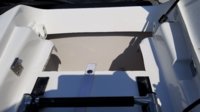 I lined the cut edge with gaffers tape until I can find some sort of slip on seal or edging for the cutout.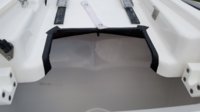 I decide to pad the bottom with cut up gym mats, the ones with puzzle piece edges the lock together. I used cardboard to make a template and them layered them in. I used the edging that came with the pads to make a base to support them, so that any water in the locker wouldn't get trapped underneath. I also stuck a piece on the back wall of the locker to keep the anchor from banging into it. I mocked everything up with gaffers tape to make sure it functions before I make it more permanent with spray glue or something.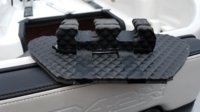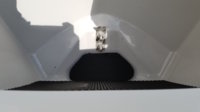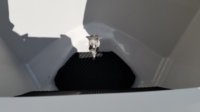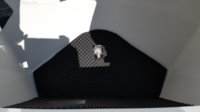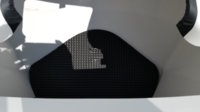 I left the eye sticking through the top mat and ran a ball bungee through it to strap the anchor down to keep it from bouncing around.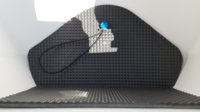 Dropped the anchor in and everything seems to fit and sit tight once bungeed in. The bungee pulls it forward on two of the arms, so I don't feel like there is much of a chance of it bouncing around.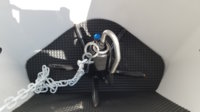 Anchor, line and chain all in.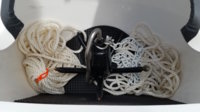 Now my wife can keep her butt firmly planted on "Her Seat" when the anchor is being deployed.