Jetboaters Fleet Admiral
Staff member
Messages

5,195
Reaction score

14,459
Points

587
Location
Boat Make

Yamaha
Year

2007
Boat Model

AR
Boat Length

23
My wife, Willow bought an early Christmas present, bought it on sale. A new, more powerful sewing machine. The old Kenmore is still good, but will not put a needle and thread thru 8 layers of sunbrella. As some of you know, we recently bought a 27 y.o. sailboat that has been somewhat of a project boat. Most of the projects so far have been mine. So Willow has been thinking about projects that she can do and new fabrics all around the boat is it. Anybody who has hired out canvas or cushion work knows how expensive it can be and how long the waiting list can be. The projects will start small with fender and hatch covers as she gets to know the machine and then move up to cockpit/deck cushions and then interior cushions. And then new bimini, Dodger and accessories, Winter cover. She will practice on the sailboat and then maybe tackle the curvy interior upholstery of the Yamaha. I am sure the grey fishscale vinyl, on the seatbacks will need redoing in a year or two. More sun shades over the bow/ swim platform and vinyl windshield just in case we get caught out in a squal again. Anyway, no shortage of projects in the near future for this machine.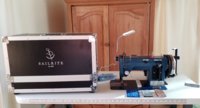 Setting up the apartment over the garage as a sail/sewing loft with a sizable extension to the table.
It can also be brought aboard and used with or without AC power, using a handcrank.
https://www.sailrite.com/Sewing-Machines/Portable-Heavy-Duty-Sewing-Machines
Last edited: