Messages

5,092
Reaction score

4,157
Points

357
Location
Boat Make

Yamaha
Year

2010
Boat Model

Limited S
Boat Length

24
For context I've done this several times before but had different experiences this time worth noting.
Departed Brannon Island State Park near Rio Vista, CA.
Travelled 50 miles on smooth water to the guest docks in Old Sacramento.
2.5 hours on the water, no stops but plenty of no wake zones.
Lesson 1. Call the docks to reserve space long before you launch. On most weekends after Labor Day space is not a problem. This weekend they closed about 75% of the docks for construction either on the dock, capitol street bridge or both. I ended up getting the last spot available on the outside. $1.50 per foot per night, add $10 per night for shore power. Monitored via video only.
Hotels: There are many to choose from but if you want to stay close to your boat and possibly see it from your room stay at the embassy suites, $200 to $250 per night for the top floor with a river view. It's a short walk across the railroad tracks and down to the dock or across the street into old town Sacramento. Another option is the river king, a paddle boat converted into a restaurant / hotel, not sure of the rate but the rooms look small, located just in front of/shares the guest dock.
There are many other hotels to choose from within walking distance (15 mins.) of the guest docks, if you don't have a need to constantly check on your boat, there may be a hotel that better suits your needs and / or budget.
My wife and I stayed at the Kimpton Sawyer hotel next to Golden 1 Center where the Sacramento Kings (NBA) play. It had a nice roof top pool which closes at 7p when the night club on that floor opens. We opted for a room with a balcony and the per night rate was close to $400. We could not stay another night because there were no vacancies as the Dave Mathews Band was performing next door that night.
Lesson 2. Check out things outside of old town Sacramento and consider using alternative methods of getting around. There is a lot more to see than what's in old Sacramento, like the recently renovated Downtown Commons (DOCO for short), also Mid-Town where there are some great places to eat and the farmers market and street fairs are held here. We took Uber twice to and from the boat at a cost of $6 each before tip. The hotel let us use bikes for free and you can always rent scooters and / or bikes right off most sidewalks. Sacramento is bike and dog friendly.
We departed old Sacramento at 2:30 and took almost 3 hours to get back to the boat ramp.
Lesson 3. Check the weather conditions for the water on the day you leave and the day you return. We had no wind on the way in and constant wind of 15 mph + on the return trip. While in the sloughs towards rio vista speed was limited to 30 mph or less. Once we got back into the main channel near rio vista head winds created swells of 5+ feet with no apparent recurring pattern. It was a white knuckle trip for the last 3 to 5 miles at 10 to 15 mph max, no cruise assist, lots of water over the bow, I was afraid for my wife's and my safety.
My back up plan was to head to the nearest boat ramp, get an Uber to my tow vehicle and recover the boat from the new ramp.
Boating related costs: $335.50
$20 to cross the Antioch bridge ($5 per axle),
$18 to launch and park,
$36 guest dock fee ($1.50 per foot per night), $210 for fuel (approximately 60 gallons at $3.50 per gallon), $52.50 (15 gallons for tow vehicle at $3.50 per gallon).
Lesson 4. Next time try the train. 3 hours each way and they have a drink car versus 5 hours each way (car and boat) and all the non alcoholic drinks you want plus all the pros and cons of trailer boating.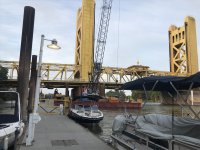 Last edited: