Messages

3,394
Reaction score

2,876
Points

267
Location
Boat Make

Yamaha
Year

2017
Boat Model

AR
Boat Length

19
Got this cover from
@swatski
last month. Finally fitted it to my boat this weekend. Many thanks to him for the cover. His wife was even nice enough to get up early on a Sunday morning as I stopped through St Louis on a work trip. Haven't heard from him in awhile on here. Hope he's doing OK in NJ!
So, I got the cover home, and had to assemble it in the driveway the first time. I was afraid of the non-floating poles, and trying to figure out how to make it fit on the water. It's not completely intuitive to put together the first time, but once it is together it makes perfect sense.
First off.....it's superginormous. Like OMG huge. Here's some pictures.
it looks like it covers a good 2-3ft of the water behind the boat. I don't have the poles in place on this config. The poles didn't really reach the back of the boat here. Not sure if I'm supposed to have the bimini deployed or not. I can see where NOT having it deployed might make the setup easier. Kinda double coverage as well.
Here are a couple of pics of it spun around to cover the bow. It covers ALL of the bow, and is close to being too large. Will be nice if we're out all day though. Make the bow a comfy place to sit for more than a few minutes. Notice I used the support poles in the front here. These are pretty finicky to setup, but hold the cover nicely to keep it off my head, and I'm 6'2" tall. Also notice that the "side straps" have nothing to attach to in this orientation. They aren't long enough to reach the cleats or the tower. They reach the tower in the previous "backwards" pictures. I also took a pic from the rear of the boat to show the overhang width, this would be a problem if tightly rafted with other boats.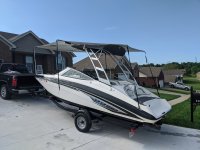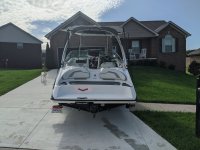 Overall, it's a really nice piece of equipment. I'm very curious to see how it works out once we're on the water. I can see it being a VERY large sail, and I'm unsure how stable it will be with a medium/strong breeze.
Thanks again to
@swatski
I owe you a beer or three sir. For this and a myriad of other reasons.