Messages

160
Points

43
Location
Boat Make

Yamaha
Year

2019
Boat Model

AR
Boat Length

19
So after 3 days of rain we got to go out tonight for the second time.
Goal for today was to practice docking and low speed maneuvering.
we threw a fender out and let my wife practice slowing coming up to it and "Docking"...we will spend some more time on that later...
I practiced on the dock my self a little, winds were about 9-10 mph. I think I mostly got it down, still makes me nervous though.
After docking once I was pulling away and bumped the back rub rail on the dock and it looks like it pushed the rubber insert out. however, I don't really see where the slack came from so not sure if I stretched the rubber? here is a picture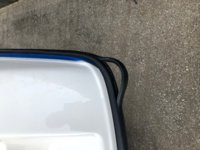 I tried to push It back in on the trailer, I felt like it moved a little but figured I would ask before I tried to fully force it back in. I noticed in the middle there is a cover with two screws should I take this off? will that make it easier?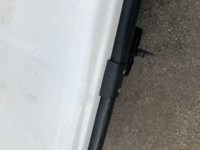 since there was no one else at the launch my wife wanted to try backing the trailer down, still took a bit but she was able to do it all by herself this time!
here is a picture of how busy it was on the lake.