Messages

234
Points

93
Location
Boat Make

Yamaha
Year

2015
Boat Model

LS
Boat Length

24
I've been building a bar in my basement (slowly) for the last month or so and thought I start a thread about it here on the forum.
My wife and I bought this house about 3-years ago, and the main thing I wanted when doing our search was a place with an unfinished walkout basement that I could work on and finish myself.
My plan was to do everything but the drywall hang/finish, but I ended up having the framing contracted as well.
Countless nights and weekends of running wires, painting, installing doors and trim, and laying hundreds of square feet of tile... I finally got to a point where I could start working on the centerpiece of the whole place, my basement bar.
I started by using some of the most advanced 3D modeling equipment available on the civilian market to design this graphical representation of the finished product...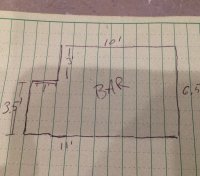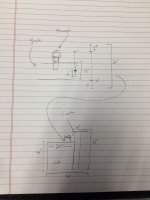 If anyone is interested I can upload the CAD file to a public drive...
I picked up a 9' beam from a 250-year old barn and used it as the corner posts for the frame. Getting straight cuts on the ends was
very difficult
, as there are no flat edges anywhere on the beam. 4-saws later and we figured it out, but the irregular nature of the beam was the starting point for what I'm starting to call the "No Square Bar". Coupled with 1" slope somewhere near the middle of the concrete and my questionable framing skills, and that pretty much "rounds" out where this bar is getting its name.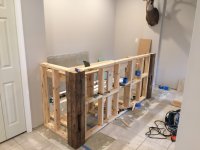 Here's a picture of the frame with a mocked up counter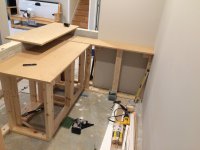 This is what I got finished yesterday. Putting panels on the inside of the (from left to right) fridge space, shelves, and under sink cabinet.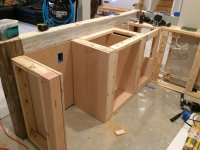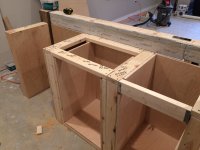 I couldn't decide what to use for the insides of the cabinets, but ended up going with 3/4" maple plywood that will probably end up getting a coat to Tung Oil as the finish. I hated spending $100 on two sheets of this stuff, as nobody will probably ever see any of it, but couldn't bring myself to use MDF or regular plywood on the off chance somebody did.
Last edited: