Messages

2
Reaction score

2
Points

12
Boat Make

SeaDoo
Year

2009
Boat Model

Challenger
Boat Length

24
According to
@JetBoatPilot
the Thrust Vector System is not compatible with the Seadoo Challenger 230 twin engine models.
I'm here to confirm that this inst entirely true. (More below).
My Boat is a 2009 Challenger Wake 510 HP ( 2X 255 HP Engines)
Thrust Vector states their fin adapter is not compatible with any of the 230 models
.
Parts Link:
OEM Parts > SeaDoo > Boats > 2009 > 2009 Sea-Doo 230 Wake, 2 X 255 HO
I then decided to compare the 2012 230 Wake 520HP model. Bear in mind the 2012 year lot of changes and was Sea-Doos final year for this boat before they announced they were discontinuing their entire boat line.
Comparing to a 2012 Challenger Wake 520 HP ( 2X 260 HP Engines)
Parts Link:
OEM Parts > SeaDoo > Boats > 2012 > 2012 Sea-Doo 230 Wake 520
The reason the Thrust Vector is NOT compatible is due to the cut-out on the 2007-2011 nozzles. The trust vector has no way to stay secured to the nozzle if there is a cutout present. So if you have a 2007-2011 Challenger 230, you cannot install a thrust vector without swapping out to the newer, updated nozzle.

I also want to point out that the 210 models, Chaparral, and Scarab BRP powered jetboats ( even the LARGER SCARAB BOATS) also DO NOT have this cutout on their nozzles. This leads me to believe its unnecessary and was phased out for a reason.


On to the HOW TO Portion of this post
After a bit more digging, I found that part number
271001787 is also the SAME part number used on the BRP powered Scarab Jet boats.
Then confirming that the Thrust Vector is 100% compatible with the Scarab jetboats, I decided to order the updated models and the Thrust Vectors to try to fit them on my 2009 Challenger 230 Wake.
Twin Thrust Vector Kit.
I ordered 2X 271001787 Sea-Doo Steering Nozzles from a 2012 Challenger 230 and installed them on my 2009 Challenger 230.
Here are a couple photos of the old part numbers vs the new part number.
The nozzle with the cutout it the original 2007-2011 part number.
Without the cutout is to 2012 nozzle.
New Nozzle Installed - Quick and easy swap. Took 20 minutes.
And finally, because the new nozzles have no cut out, the Thrust Vectors are now a bolt-on application winch also took less than 20 minutes to install.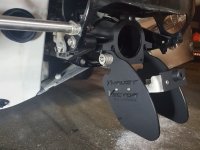 (The Supra Surf Well 3.0 trim tabs are for another post
Work-In-Progress!)
Photo showing the Thrust Vectors with the updated rubber bumper to keep them from interfering with the reverse buckets.
Last edited: