Messages

1,665
Reaction score

1,296
Points

187
Location
Boat Make

Yamaha
Year

2017
Boat Model

AR
Boat Length

19
Downtown side docks aren't under construction, they look to have been hit by something, or otherwise damaged.
This was from Saturday (9/22/18). Docks are not usable in several sections. The ramp leading up to the sidewalk has been damaged and is under water. The door at the top of the ramp was closed and locked as well.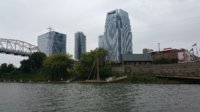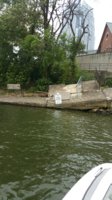 I had no idea we were supposed to call ahead and get a permit to dock. We talked to the "Pontoon Saloon" captain for a few minutes, and he gave us the rundown. I'll call next time. Since we were already that far into the journey, couldn't find a reasonable alternative quickly, and didn't want to just head back empty handed.....we rolled the dice and docked on the Stadium Side anyway. We left both of our business cards on the dash with cellphone numbers, hoping they would call before they would tow it away or otherwise remove it. We also only planned on being there a short time, so we took our chances. Came back to find this giant boat parked behind us, and our boat moved about 2 cleats up river. No big deal really, was part of the risk we took. They didn't respond when we said "Hi", so we moved on and didn't get to talk to them about the permitting process or where they were from.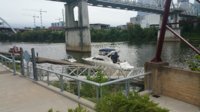 The Stadium Side docks were in excellent condition with good spacing on the cleats, and nice clean surfaces. You can see a door at the top of the ramp there. It had a keypad on it as if it was lockable, however it was not locked when we showed up, and we agreed that if they locked it on us I could climb around to get back to the boat if it came to that. Likewise, we could swim to it if we had to. Luckily it didn't come to that, and the door remained unlocked for the few hours we were there.
If staying overnight, I would definitely want to have the permit, as well as some form of confirmation. The area seemed pretty secure overall, however I might also bring someway to lock the boat to the dock for an evening away from it. The little white pedestals also have power outlets in them, so recharging of batteries is possible if thats a thing you might need/want. I would think a single overnight wouldn't need it though.
Well, I may not be crazy!! Apparently, this route can be considered part of the Great Loop (or at least a side trip), and has more marinas/gas stops than going down the Lower Mississippi. I've never seen this site until today, but "Captain John" (apparently) has a crap ton of information on this.

http://www.captainjohn.org/River_Cumberland.html
I found his site a few years back. Didn't realize he had a section on the cumberland river.
The wife has been to Green Turtle Bay a few times on "girls weekends" and rented a few pontoons there (she's confident enough to drive a boat, but not quite ready to trailer ours she says). She really likes that location, and I might be able to talk her into making that a start/return point for us. Might make a good "rally point" as well for a group style outing down the river. Plenty of small cabins there to have a place to stay if needed, and I'm sure the owners are nice enough to let us park a truck/trailer there for an extended period of time.
A quick problem I'm seeing is timing. This will need to be a multi-day cruise/event. Doubt we can even make this a weekend type trip. Would need to have a day to travel to the start, 2-days travel each direction, and then a days travel home. Unless we could find someone to drive the truck for us from the start point to the end point and either wait on us, or find another means home. There are some logistical issues there to overcome either way. Either adding days in fuel and hotel/etc, or adding a "get home" expense to a friend driving the trailer for us. Not insurmountable, but something to consider........How to the bimini guys take care of that? Just leave the trucks/trailers parked in a launch ramp for a week?
Speaking of timing, I think this mid/late September timeframe is nice for the weather, but probably a bit of a stretch for those of us with kids in school. Finding a week long sitter is a tall order during the school year. A summer event would be more palatable in those regards, perhaps over a long weekend?
Last edited: