We end most of our lake outings by watching the sunset then boating back admiring the stars. So a functional stern light is really important to us. We had been happy with the factory stern light for almost four years with three exceptions; it takes up too much space, is hard to remove from the socket and it was a hassle to access the ski locker to the get the pole when the boat was full.
On our last outing we discovered that the electrical connectors in our stern light had disappeared and one was likely stuck in the pole. Years ago I had admired Innovative Lighting's self extending and retracting light. Unfortunately it was discontinued and the manual version would not fit due to the 16 gallon shower tank that I have installed under the light socket. So I decided to try their telescoping socketed light. The pole retracts to around 2' and extends to 6'. The factory pole was 5' so we will likely extend the pole to that length but an extra foot is not a bad thing.
This is the marketing photo for the light, it is retracted in this picture.
The factory light base hole is round. For some terrible reason Innovative Lighting decided it would be good to add key sections to their base so I had to route out the round hole to make it fit.
This is the socket open
It came with a nice rubber seal with a plug built in
This is how it looks installed
When collapsed it is so much shorter than the factory pole
Extended it is longer than the factory pole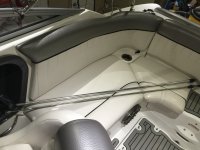 The light came with two mounting brackets which made it easy to mount the pole in this easily accessible location. They did not provide screws so I found 4 stainless screws that were left over from another project.
This is their closeup shot of the mounting system. It uses a spring loaded twist lock which is much easer than the factory system.
So far I really happy with it.
Pros
Easy install and remove
Easy to store
Stainless steel construction
Improved twist lock mount
LED light source
Cons
Need to cut key slots
Smaller diameter pole which is less rigid
$80 cost