Messages

6,298
Reaction score

6,568
Points

432
Location
Boat Make

Moomba
Year

2019
Boat Model

Other
Boat Length

23
I went to the boat show today in Birmingham and crawled over a lot of boats, mainly the surf boats though. I think this may be the next type of boat I end up getting unless there's some kind of real surf advancement in jet boats in the next few years. A lot of the wake boats are way out of my price range and well into six figures but the budget wake boats are something I could see myself getting into one day.
For me the new Moomba Max really is an amazing machine for the money IMHO. I spoke with a very nice and patient gentleman who works at the factory in TN and he was glad to go over all the details about the boat and explained a lot of the things I had wanted to know about v-drives. You can just see there is a lot of thought put into these boats and they certainly have a Supra feel to them at about half the price. The A2 tower is spring assisted and counter balanced so one person can take them down. There are no bolts to screw in to lock the tower
. Just rotate the tower locking clamps on the inner sides and it will fold down inside the cockpit with the bimini folded up. The bimini unforuntaely doesn't cover a lot behind in the cockpit so this was kind of a bummer compared to the bimini style on our Yamaha boat towers.
Something I did not realize is Moomba boats have the Supra heritage and share the same lower hull design. The Supra boats have the newer Flow 3.0 surf system where as Moomba has the Flow 2.0 for this year. I compared both the bottom hulls out back and they looked damn near identical. Supras are known for a good, dry ride even in rough water so this was good to see!..
It felt near every bit as nice as the Supra SE450 that was sitting across from it. The seats were thick, well stitched materials and were super comfy. What I really liked about the Max was the extreme deep storage all throughout the boat, hence it's name. The rear lockers seemed deep enough my 8 year old daughter could have stood straight up in there and I still could have closed the hatch! I wished I took a pic of how deep the rear lockers were it was unbelievable! I'd say about 4' deep storage if not more lol. The engine hatch had a deep plastic tub you can place towels or whatever one to heat them up for cold days. It was equipped with the Raptor 400 engine by Indmar and they also make a 440 version. This one was already equipped with the larger prop for surfing.
The bottoms of the cockpit storage areas are super deep as well with nice touches like a rubber mat material at the bottom so there's no worry of placing something in there wet and getting the carpet soaked. The rest is finished in carpet but also all the edges are finished inside every compartment. The fiberglass has a rolled inner edge so there is no snagging from rough, unfinished edges like in our boats. It's little details like that go a long ways to me when shopping for a next boat. This image does not do justice how deep the side storage was...
The tech you can put in this boat also carries over from the Supra boats. In addition to the Flow 2.0 surf system you can also get the AutoWake 2.0 with Predictive Wake system which measures every 10th of a second the pitch and roll attitude of the boat and adjust the ballast accordingly. So if anyone moves while you're surfing the system will compensate automatically giving you a more consistent wave every time no matter the load or people placement. Sitting at the helm the display is offset and I really liked that on the Max as it gives you a very clear and straight path looking ahead. All of the controls, toggles and buttons felt of great quality like they would last. The captain's chair was easy to get in and out of unlike my 192 that sits much lower and has some cutouts that make it harder to get in and out of. This seat was taller and had a more traditional L-shape but also had enough boltster to hold you in and it felt very comfy. The flip-up bolster was wide and thick which gave a nice support...
Over on the other side I really loved how deep the glove box was and also that you can access it from the side access door. I also liked that the sides were padded and stitched nicely which on some wake boat brands its just bare gelcoat like on our boats. I prefer it padded for a nicer look but to also keep the gelcoat from getting scratches from boards or people...
The spotters seat back hatch is gas assisted and swings up to access the batteries and battery switch. The amps and battery tender were also mounted in this area. I liked that you can access this storage area even from the bow which also had gas assisted seat backs that swing up.. This is looking from the bow area...
This boat has a beam of 102" so it felt very roomy and wide like our Yamaha boats do. The bow of this boat is not quite traditional bow shape but not quite a pickle fork design either, kind of a mix in between. It had an optional bow filler on this boat, with me at 5'10" sitting in the bow corner I wasn't quite able to fully extend my legs straight out but almost. However the width and wrap around padded seating still felt plenty comfy if I were hanging out up there all day and it still felt plenty huge. The padding of the cushions on this boat really stood out to me compared to some of the other boats.
I gotta say that for the price of starting out at $60k well equipped with a tandem axle trailer, this really makes the Yamaha "Wake" specific models just seem overpriced if you're buying a boat for watersports. There is enough room on this boat for plenty of hanging out, even at the rear as we all like to enjoy on our Yamaha swim platforms. This really makes upgrading to a 21-24' jetboat for surfing not really an ideal situation for me. One thing I really love about our boats is the lack of maintenance, winterizing, low draft, etc but at the same time I can see myself forgoing those things in favor for a boat that would require a little more maintenance, would need winterizing, has a draft of 27.5" if it has storage for days and will make a hell of a surf wave without a ton of fuss, regardless of people moving around. It just seems like a real winner for the price. I wouldn't be able to get a boat like this until we likely move or I would need to pay for storage or at a marina so there's extra cost involved with a boat like this but man it just seems like a ton of fun can be had without having to stuff bags in all your storage or across the seats on our boats. I hate to say it but I may go to the dark side one day I can swing a boat like this. I thought this was an awesome boat that has no wood, craftsmanship was oozing out of it for not a ton of money compared to say a 212 X or even the more expensive 242 X. I'd likely need to upgrade the rear end ratio in my truck to get me by and to pull a boat this big (boat and trailer are 5,700 lbs) but I plan on upgrading tow rigs in a few years. That new redesigned Dodge Ram sure would be nice to find a one-owner used one in a few years!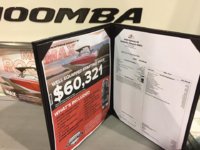 Last edited: