Event Sponsor
Event Sponsor
Vendor
Messages

5,258
Reaction score

4,836
Points

392
Location
Boat Make

Yamaha
Year

2017
Boat Model

242X E-Series
Boat Length

24
This is the moment that everyone has all been waiting for, the patent pending Yamaha wake surf wedge introduced by Gantlin products. This device is to redirect the jet flow into the wake so we can make good use of the wave that these boats can make.
Everyone has seen the wake pictures so now I am going to detail the installation. The beauty of this product is that it is removable and can be installed in minutes!! Did I mention that there are no holes to drill into the hull at all... the only bad thing currently it is only offered for 06-08 SX210/AR210/ 212X/212SS and 07-09 AR230/SX230....model years may vary we will need to see the back swim deck to verify. Newer model wedges are being built now for testing. ( I already have volunteers )
What will be received with the purchase of a wake wedge will be the following brackets and pins for installation on the boat. The large aluminum bracket will use the existing holes that mount the bottom bracket on the ladder and supplied longer stainless steel button head cap screws to tighten everything back up.
Next you will need to slide the long side of the bracket into the trailer tie down loop
next we will need to slide the small side of the wedge into the bracket that we bolted onto the ladder,
Now we need to slide the long pin thru the hole to secure the wedge at this point.
Next we slide the collar over the long end of the wedge to take the room up in the tie down hook and pin it into place.
This completes the install.
Ok now that the product is installed let me tell you about some of the features. Notice the spring clamp, that is so we can use the ladder for re-boarding. Just unclamp and swing the wing down. On the back side of the wedge there is a turn buckle so adjustments can be made to block more flow of the jet or let a little more by. All components are stainless steel, galvanized, aluminum, or plastic so the wedge is full water worthy.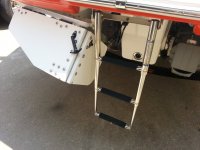 I am sure I am missing a lot and
@sx210owner
or myself can answer any questions that anyone else would have. These units are going to sell for $880.00 to anyone not on the forum but forum members will get a discount and can be had for $800.00.
Happy surfing to everyone from Myself and Mark!!