Jetboaters Fleet Admiral 1*
Messages

12,806
Reaction score

18,547
Points

822
Location
Boat Make

Yamaha
Year

2016
Boat Model

AR
Boat Length

24
EDIT: if you are just checking this out - skip to page 4 post #72 to see a
@Ridesteady
install video.
It's been a busy weekend.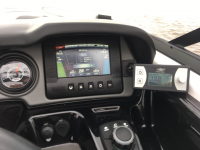 Thanks to
@RiverRat
's post here
https://jetboaters.net/threads/hydrophase-ridesteady.12487/
about the new Ridesteady system for Yammies. I contacted Justin of Hydrophase, and was able to purchase what might be the first system tested in a Connext Yammie.
That thing is a BOMB. I will provide some details and video clips over the next couple of days. Unfortunately for me I'm usually boating alone this time of year, and that slows things down. I also have to weed through a bunch of crappy videos so I can post, hopefully, some informative ones.
I must say, after spending a good part of the day today on the river testing that thing, I'm just completely blown away!
Imagine that: I was able to go for as long as I wanted "throttling" up and down -- holding GPS speed or RPM — by simply rotating a KNOB!!!!!
And here is the best part (for me):
I tested throttle synch function but deliberately bumping ONE throttle up or down (pushing it out-of-synch on purpose) and, what just blew my mind, the thing responds by correcting the differences! (electronically adjusting APS and RPMs - it does not move the throttles levers)
Again, not sure how well it will come out in my short videos, but the system is quite amazing.
[EDIT: check the *** comments in the next post, below]
I'm sure many of you feel the way I do — "single throttle" electronic control has been a holy grail in twin Yammies for a long time. I love to have two independent throttles, but synchronizing them by hand can be frustrating. I would pay a lot of money for that function alone and even considered getting an E-series boat for that reason. The Ridesteady, however, does a surprisingly awesome job electronically synchronizing the throttles while maintaining the constant GPS speed or RPMs.
Today was windy, choppy, and nasty - great time to test constant RPM cruising, and it was smooth. The native Yamaha cruise assist, with or without the Connext, has five up or down 200 RPM steps which is pretty restrictive. What is AWESOME about Ridesteady, the RPM control has a 10 RPM step and basically full range (I tested it all the way up to 7,700 RPM - 51mph) - and is smooth as silk.
The system has fantastic adjustment/controls abilities that can be used to provide either a softer ride vs a more exacting speed compliance - I tried some softer settings in "response", "active speed", and "overshoot" menus and was able to control the cruise - wish I had more time to play with it, it is definitely a bit of a learning curve.
The factory settings seem pretty aggressive. I wasn't pulling any skiers/boarders today and did not have the time to systematically move through the adjustments, but even w/small adjustments I tried I was able to get a much smoother ride. I wish I studied the manual beforehand a bit more as I am certain those settings can be made exactly how one wants it, just takes some learning.
I was also able to confirm that the native "NO WAKE" and "CRUISE ASSIST" functions still work very well with the Ridesteady installed, no problems there.
Regarding the install itself, I followed the instructions/manual
http://www.hydrophase.com/sites/default/files/Ridesteady_Installation_and_Users_Guide_Yamaha_v.1.0_compressed_0.pdf
It is pretty strait forward, albeit swapping some of those connectors can be a PIA - I ended up pulling one of the APS throttle controllers off of the bulkhead, not being able to dislodge a connector without braking it…
To be continued…
--
Last edited: