Messages

439
Reaction score

142
Points

122
Location
Boat Make

Yamaha
Year

2013
Boat Model

Limited S
Boat Length

24
I installed a couple of 12v and USB chargers in various locations around the boat.
Below is the 12v outlet I added to the passenger storage tray above the head. To cut this out, I used the hole saw to start a pilot hole on the inside of the tray to make sure I had it where I wanted it, then flipped it over and cut the plastic out from behind. If you are gentle enough you won't cut the vinyl that is wrapped and can then just fold it under the socket. I plan on drilling a small hole for power and ground and routing it behind the panel in the head.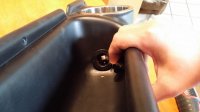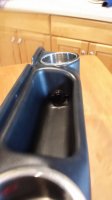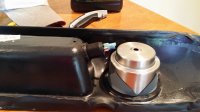 Not shown is the USB charger in the bottom of the glove box. It was a tight fit and I got lucky. I'd probably re do it by drilling in the side of the box facing aft instead of on the bottom. I put USB ports there to be able to charge phones while stored in there.
I also am installing a 12v port above the battery vent in the aft part of the cockpit. This will allow for inflators, etc in the back vs in the middle of the boat.
It would be nice if Yamaha would put these in Stock. Maybe just 12v ports.
Here are the items I used.
http://www.amazon.com/gp/product/B001U4ZZPK/ref=oh_details_o04_s01_i02?ie=UTF8&psc=1
http://www.amazon.com/gp/product/B0082CXEI8/ref=oh_details_o04_s01_i05?ie=UTF8&psc=1