Jetboaters Fleet Admiral
Staff member
Administrator
Messages

13,476
Reaction score

11,113
Points

712
Location
Boat Make

Yamaha
Year

2016
Boat Model

242X E-Series
Boat Length

24
If you are driving your boat and the throttles (binnacles) are vibrating or chattering, first feel each one and see if you can isolate which one is vibrating. If you can't, move one or the other into neutral to see if you can isolate it that way. Once you've figured out which is chattering, pull the boat out of the water and unclip the nozzle from the reverse gate. This isn't obvious how to do....here is a close up of the nozzle attachment clip. It is spring loaded and clamps onto a knob on the gate: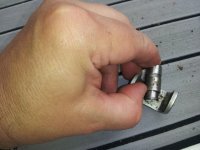 In the image above I am compressing the slider so as to remove the connector from the U clamp & knob (removed from jet pump of course).
Below you can see it removed from the knob: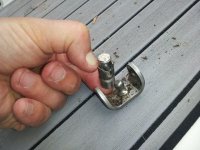 The photo below shows where the adjusting nut is. Loosen this nut, and turn the cable end assembly clockwise to raise the gate up. When mine started chattering I turned it 3 turns and my chatter went away. If your boat creeps forward hard, then you may have adjusted too far and need to back it off some.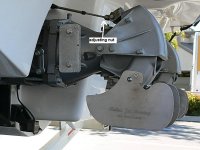 Once adjusted, tighten the nut back down and reclip the cable end to the nozzle.