Jetboaters Fleet Admiral 2*
Staff member
Administrator
Messages

18,277
Reaction score

20,189
Points

1,067
Location
Boat Make

Yamaha
Year

2016
Boat Model

242X E-Series
Boat Length

24
So I ended up replacing my JVC headunit, which of course meant that I also had to replace my JVC remotes as well. This was my first attempt at cutting and shaping ABS plastic (I bought a 12"x12" sheet).
Removing and swapping the head unit was pretty easy....I put in a Clarion M502, and it was a straight slide into the existing hole. Just undo the fastener at the back of the JVC, unplug the two wiring harness (Main and remote) and slide out. Then remove the metal sleeve, replace with the Clarion sleeve, bend the tabs to hold the sleeve in place.
Then take the wiring harness off the JVC, and cut the wires and wire it to the Clarion harness (did this inside the house in the cool!). Then you just plug into the boat as is. Depending on your stereo set up, you may also need to connect wires for preset power, amp RCAs, remotes and remote amp turn on.
The hardest part of this install was reworking the dash to accomodate the Clarion Remote (MW1). Here is a shot of the dash hole I started with (JVC remote removed):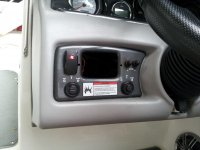 The next step I took was to cut a piece of ABS down to cover the square hole in prep for the round remote. I didn't want to cover the key switch labels, but it needed to go fairly high and low to provide stability for the new remote. Here is the part I cut in place:
Then I took a 3" hole saw and cut both the new part and the existing dash behind it in one move. I didn't get a photo of this because while it wasn't hard, the brand new VERY sharp hole saw was eating through the ABS really fast, and I was having to be very careful about it going too fast. I also made the mistake of not tightening down the new plate all the way.....so when I made it through the new plate, it hit the dash behind, bucked out of the hole and sawed my thumb!!! I grabbed paper towels (that were handy-fortunately) before bleeding all over the boat and took a break for patching my thumb. Here is my thumb now...
So once I was done bleeding, I went out and CAREFULLY finished cutting the hole and put in the new remote and ran the cable under the floor where the boats existing cables are routed (zip tied to them), and plugged in.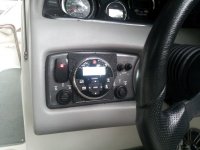 It is by no means perfect (and the is a little debris in the photo I didn't see when taking the photo), but I'm ok with the end result. I can see the key switch labels and the remote is SOLID. I do wish I had a router I could have beveled the edges of the plate with....but perhaps later....
I replaced the stern remote with no issues...much easier install and looks great!