Messages

7,088
Reaction score

7,802
Points

502
Location
Boat Make

Yamaha
Year

2010
Boat Model

Limited S
Boat Length

24
I recently visited my local powersports shop for yamaha oil and was surprised to see that they had new waverunners on the floor.
This FX SVHO (Supercharged) Limited (Red and black) is the top of the waverunner line it comes With speakers, a depth/Fish finder, tube, wake board and tow lines as well as a $1,300 premium over the non limited variant, which is also pictured (red and silver).
I am considering buying this GP 1800 HO (normally aspirated) it has the PWC industry's first auto trimming system which angles the trust nozzle down to push the bow down after slowing down to make a turn , and tilts the nozzle upward once or as the ski gets back on plane. It's also been redesigned this year so hat it has cruise assist/no wake modes, a reverse lever and connext. I want it but having just purchased a 2021FX HO for my wife, being close to Christmas, even Corona style, and pending a kid moving away to college next year, hopefully, I'm reluctant to buy an mother expensive toy that I will only use on the weekends during Spring and Summer.
The last pic is the out the door price including tax, excluding a trailer or extended warranty. It's hard to get over the dealer prep/markup fee since I have a strong feeling that it only takes an hour or less for them to attach the steering column, add oil, a battery and fire extinguisher (they don't even give you a full tank of gas when you buy a waverunner), the rest is just pure profit.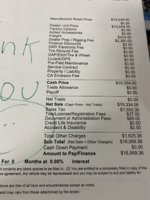 Last edited: