I have or am in the process of adding several new electrical items to my SX230. I needed additional power to supply them and additional switches to control them.
Based on
@Skysurfer2010
's recommendation I ordered a switch panel from
http://newwiremarine.com
.
This is the switch panel as it arrived.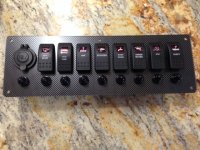 This is the backside after I soldered the wiring. I am running a new positive and negative supply from the low voltage disconnect for this panel.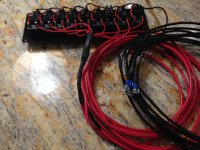 There was one issue with the order which was my fault. I needed an on / off SPST switch for the trim tabs but did not indicate that in the notes. They provided a switch that was capable of adjusting the trim tabs up and down. I contacted customer service and they very graciously gave me free shipping on a $7 SPST switch to replace it. They also offered to swap the switch out for free if I sent the switch back. Their trim tab control switch is a great deal for anyone that needs one.
I am very happy with the quality of the panel, its components and the customer service provided. It is supposed to be raining with a high of 80 this weekend so I am likely to find time to get the panel installed over the weekend.
In the mean time here is a picture of
@Skysurfer2010
's panel installed. I plan to install behind the throttle levers.