I received these in the mail yesterday and am hoping to get them installed Saturday. I reached out to
http://www.lectrotab.com
a few weeks ago and have been working with Dan Roberts to build a custom set of tabs that he will be turning into a Yamaha kit once we know how well they work.
I will also be using a Mente Marine ACS RP to automatically control the tabs
http://www.mente-marine.com
Here are some pictures of the tabs. Hopefully I can get them installed and add additional pictures this weekend.
I was impressed with the packaging!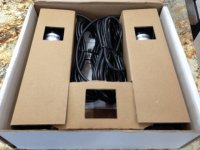 This is a tab and actuator. I will be installing the tabs with the "wings" pointed down.
Dan took a 12"x12" tab and bent the outer edges down to form wings which should increase the lift provided.