Messages

879
Reaction score

948
Points

187
Location
Boat Make

Yamaha
Year

2019
Boat Model

242 Limited S E-Series
Boat Length

24
Some of you may remember from "the other site", last year I ran into a deal on a 2010 AR240 that I could not pass up. Our family had really been enjoying our SX210, but we knew an upgrade was on the horizon. When this boat fell in my lap, I just couldn't let it go. The closest dealer to me is about an hour and a half away and the had this 2010 on consignment for another customer. Long story short, I was able to pick it up for $29,500. The best part....30.5 hours! The only flaw was that the factory graphics were peeling, but that will be remedied before this season kicks off. Since I purchased it through the dealer, they allowed me to buy another 2 years on the YES warranty.....and I did due to the oil cooler issues on some of these boats. We only got to use the boat 3 time last year since I bought it late in the season, but I immediately went to work on the upgrades.
Like some others have done, I wanted to start a thread documenting my upgrades as I perform them. I have gained a ton of knowledge from people like you and if you have any questions on anything I have done, Ill do my best to answer them.
Lets start with the stereo:
On the port side I have an Interstate Group 27 Marine Battery, Perko switch, and fuse holders for each battery bank. on the starboard side, I have two Group 29 Marine batteries wired in parallel to make the second bank. Onboard Minnkota charger is on the starboard side as well. The simple two banks with a switch has always worked well for my application. I don't really do enough riding to benefit from an ACR.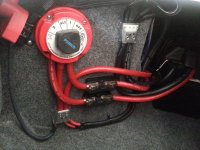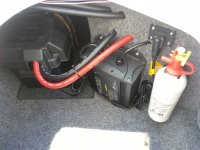 I had 4 polk DB651's left over from the old boat......I had em, may as well use them. They are great sounding speakers, but I am going to eventually replace them with JL MX650's.
Also had a MB Quart 4 channel amp from the last boat.....once again, I liked the performance, for the money it is very clean and rated 60x4 RMS. This amp will be bridged to 2 channels to take care of my tower speakers. Since I was happy with the performance, I went with another MB Quart 5 channel to handle the polks and the subwoofer(s). YES, I realize they are not class D, but once again....budget. I have a grand total of about $279.00 in amps. I will make the jump to class D probably next year....not because I am unhappy with the sound, but for their efficiency.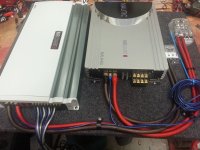 Next to the subwoofers....this was a challenge for me. I could not find anywhere that I really wanted to IB mount two 10"subs in may boat. I did not want them in the cooler compartment, the port side has the table mount in the way, etc. I finally decided to try a sealed enclosure under the port side lounger. After some measuring, I found that I could fit two 10's under there, and not have it encroach on the initial opening under the seat. What I mean is that if you open that seat compartment, and look straight down, you can't see the box.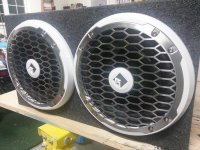 I knew I would have to come up with some sort of vent, so I decided to make my own. All I have left to do is fiberglass it, paint it, cut the hole and mount it.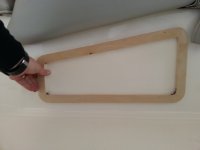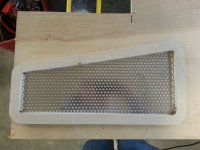 .....and look what I picked up from the paint shop today. Those are my Exile XM9's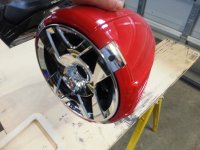 more to come.....have to turn in for the night